By now you've probably heard of, and perhaps even played around, with ChatGPT. In my opinion and experience, ChatGPT is… fine? Even if you ignore the fact that its knowledge cutoff is September 2021, in my experience, the "answers" delivered by ChatGPT are extremely bland and almost always contain at least one obvious factual error. On the other hand, I actually find ChatGPT to be very helpful as a spell-checker. I've been using it on most new CelebrityNetWorth articles. Hopefully you've knoticed! ChatGPT is not the the only "Large Language Model" Artificial Intelligence application. There are literally thousands of companies raising ungodly amounts of venture capital funds to build AI services. All of these services promise to make our lives exponentially better while simultaneously putting lots of people out of work and eventually nuking the planet. Did you play around with DALL-E a few months ago? Built by ChatGPT's parent company OpenAI, DALL-E creates images based on any random user prompt. For example, I asked DALL-E to "
create an image of an octopus in a pool, in a desert, wearing sunglasses,
" and here was the output: And then I asked it to "
create an image of Nicolas Cage licking an ice cream cone in the style of Salvatore Dali,
" and here was the output: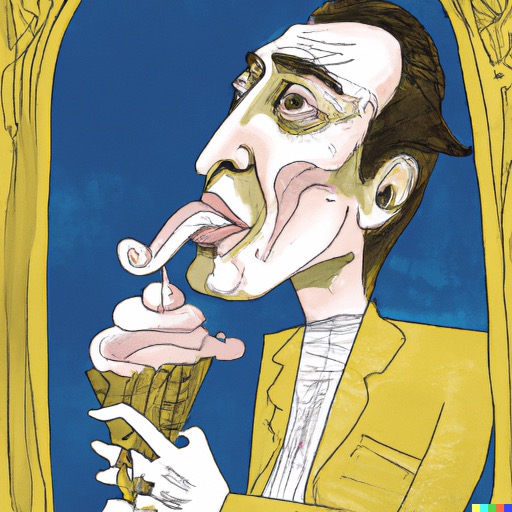 A DALL-E rival is called
Stable Diffusion
. Stable Diffusion is the product of parent company
Stability AI
. Unlike DALL-E, which is mostly used to create goofy illustrations, Stable Diffusion's goal is create hyper realistic-looking images that are actually AI generated. Stability AI wants you to be able to request an image of Nicolas Cage eating an ice cream cone and receive a result that's indistinguishable from a real-life photograph of the actor enjoying a cold dessert. Unfortunately, Stable Diffusion and parent company Stability AI have already hit a few legal speed bumps in their short lives. In January, Getty Images sued Stability AI alleging Stable Diffusion ingested 12 MILLION copyrighted images from Getty to train its models. The lawsuit accused the app of "
brazen infringement of Getty Images' intellectual property on a staggering scale… without permission … or compensation … as part of its efforts to build a competing business.
" Copyright lawsuits are not the only legal battle keeping Stability AI's lawyers extremely busy and highly paid this summer. Going back in time a bit, Stability AI was founded in early 2020 by
Emad Mostaque
and
Cyrus Hodes
. As co-founder and CTO, Cyrus Hodes owned 1 million shares of Stability AI, exactly 15% of the company's total equity. According to a lawsuit that was filed last week, Cyrus Hodes alleges that was duped into selling those 1 million shares (his full 15% stake) back to Mostaque over two transactions for an amount that in retrospect appears criminally-low. The first transaction happened in October 2021 and the second occurred in May 2022. Hodes' lawsuit claims that Mostaque convinced him to sell his stake because Stability AI was "essentially worthless." Based on that belief and advice, Hodes agreed to sell all 1 million shares to his co-founder for…
$100
By the power of paper valuation math, if 15% was worth $100, the company as a whole was worth $666.66. That unlucky number should have been a sign for Cyrus Hodes. Please recall that Hodes' second transaction occurred in May 2022. You can imagine his surprise when just
THREE MONTHS LATER
Emad Mostaque announced that Stability AI had raised $101 million in venture capital funding, in a round that valued the company at…
$1 billion
I can only imagine Cyrus Hodes' face when he read the news. He was probably at a coffee shop, checking headlines on his laptop. What could that possibly have looked like? Stable Diffusion, "
please create an image of a furious tech bro at a coffee shop reading his laptop the moment he finds out he lost a huge fortune
…" Or maybe he wasn't at a coffee shop, he was at a climbing wall when an alert came through to his phone… Indistinguishable from real life. Unfortunately, the news gets a little worse. According to Hodes' lawsuit, in recent months Stability AI has been in talks to raise another round of funding at a valuation of…
$4 billion
By the power of valuation math, and as reported in the lawsuit: "
At that valuation, the shares the Mostaque purchased from Hodes for $100.00 would have a

market value of over half a billion dollars
." Ouch. Just to reiterate, we're not talking about a guy who sold an early stake in Google then five years later was angry that the company grew to be worth a fortune. We're talking about a guy who sold his stake for $100, and then 90 days later learned he should have been worth $150 million. Then a year later thinks it could have been worth $500 million. Hodes' lawsuit claims: "
Mostaque's purchase of these shares from his co-founder and minority shareholder for a mere $100.00 epitomizes corporate greed at its worst and simply shocks the conscience. As alleged below, the purchase of Hodes's shares were plainly based on fraud, misrepresentations, and breaches of fiduciary duty. Those transactions should be rescinded and Hodes's ownership interest in Stability AI restored.
" Stability AI called the suit "
without merit
" and vowed to "
aggressively defend our position.
" BTW, on a whim I googled "
Nicolas Cage eating ice cream
" to see if a real-life photo existed of him eating ice cream. There wasn't, but I did see this result: Upon clicking the image link, I learned that the above image was actually from the Stable Diffusion subreddit. It was created by a user who prompted the app to create a gallery of images "
from his favorite 90s Nicolas Cage movie, Forrest Gump.
" Here's another one from the brilliant series: The future truly is now.